What is compound interest? Einstein described it as "the most powerful force in the universe".
This article will explain the basics of compound interest and its application to investing.
Differing to simple interest (interest paid only on principle amount) compound, is when you receive interest not only on your initial investment, but also on accumulated interest already earnt.
Think of it like a snowball at the top of a hill, as it rolls down it picks up more and more, growing larger and larger exponentially.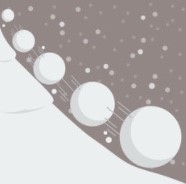 To quote one of the all-time great investors, Warren Buffet, "Compound interest is the 8th wonder of the world, he who understands it earns it, he who doesn't, pays it".
Understanding the principles of compounding, and how to think exponentially rather than linearly is a step in the right direction towards successful long-term investing.
Here are some exaggerated examples to help show you the potential of compounding and thinking exponentially.
If I asked you to take 30 linear steps, you might walk across the street, 30 meters away.
But if you were to take 30 exponential steps, that is, 1 step, 2 steps, 4 steps, 8…. And so on, you would finish up 1 billion meters away, that is enough to orbit the planet 26 times!
Or if it were possible to fold a piece of paper in half 50 times, do know how thick it would be?
100 million kilometres, that is two thirds of the way to the sun!
Let's have a look at how trading stocks and compounding investment returns stacks up against only reinvesting your principle amount.
The below graph shows a hypothetical situation, where an initial investment of $10,000 earns 10% a year, over a 20-year period.
The blue graph shows what happens when reinvesting your earnings on top of the principle $10,000, exponentially growing larger.
The orange graph shows only investing the principle $10,000 each year.
| | | |
| --- | --- | --- |
| | Compounding | Non-Compounding |
| Initial Investment | $10,000 | $10,000 |
| 20 Year Total | $61,159 | $30,000 |
| % Increase | 512% | 200% |
| % Difference | +312% | -312% |
The above example should make clear to all the power of compounding, and the benefits it can bring to long term investing. The earlier you start, the better!
Click here to open a trading account
https://www.investors.asn.au/education/investment-basics/power-of-compounding/
Disclaimer
This publication has been prepared solely for the information of the particular person to whom it was supplied by Phillip Capital Limited ("PhillipCapital") AFSL 246827. This publication contains general securities advice. In preparing the advice, PhillipCapital has not taken into account the investment objectives, financial situation and particular needs of any particular person. Before making an investment decision on the basis of this advice, you need to consider, with or without the assistance of a securities adviser, whether the advice in this publication is appropriate in light of your particular investment needs, objectives and financial situation. PhillipCapital and its associates within the meaning of the Corporations Act may hold securities in the companies referred to in this publication. PhillipCapital believes that the advice and information herein is accurate and reliable, but no warranties of accuracy, reliability or completeness are given (except insofar as liability under any structure cannot be excluded). No responsibility for any errors or omissions or any negligence is accepted by PhillipCapital or any of its directors, employees or agents. This publication must not be distributed to retail investors outside of Australia.